Fanthropy at Chicago Half Marathon + 5k 2022
02/25/2022 07:00 PM - 09/25/2022 12:00 PM ET
Summary
Come run the Windy City with us for a Fanthropy Fundraiser!
Description

It's like we've "Bean" there before.
We're super-excited to announce that the Fanthropy™ Endurance Program is bringing its next "Fanthropy Takeover" back to the Chicago Half Marathon + 5k event on September 25, 2022!
The Chicago event weekend is one of our Fanthropy community's favorite in-person race gatherings. The HOKA ONE ONE Chicago Half Marathon starts and finishes in Historic Jackson Park, site of the 1893 World Columbian Exposition, and winds through the beautiful Hyde Park neighborhood and University of Chicago campus. The Life Time 5K will take place on Sunday, September 25, the same day as the Half, and actually uses the same start line and finish line as the Chicago Half Marathon.
For this event, you will first get your bib directly from the event coordinators, and then register with us if you want to fundraise for RTI.
Why help fundraise for Random Tuesday, Inc. through the Chicago event?
You'll earn some unique Fanthropy rewards as you hit fundraising goals.
You'll have access to hotel rooms very close to the festivities.
You'll be supporting the RTI mission that has encouraged tens of thousands worldwide to be a part of a supportive community that celebrates fandom and fitness!
---
Here's how it works:
STEP ONE: Get signed up.
Go to chicagohalfmarathon.com to register for the event(s) of your choice.
Event Distances:
Life Time 5k: Sunday, September 25
HOKA ONE ONE Half Marathon: Sunday, September 25
STEP TWO: Get registered with RTI.
If you want to fundraise for RTI and get some fantastic thank-you rewards, use this registration (where you are now) to let us know you're running for us. This is also where you'll tell us your shirt size and which event(s) you registered for so we can personalize your personal fundraising page. There is a virtual option for those who can't make it to Chicago!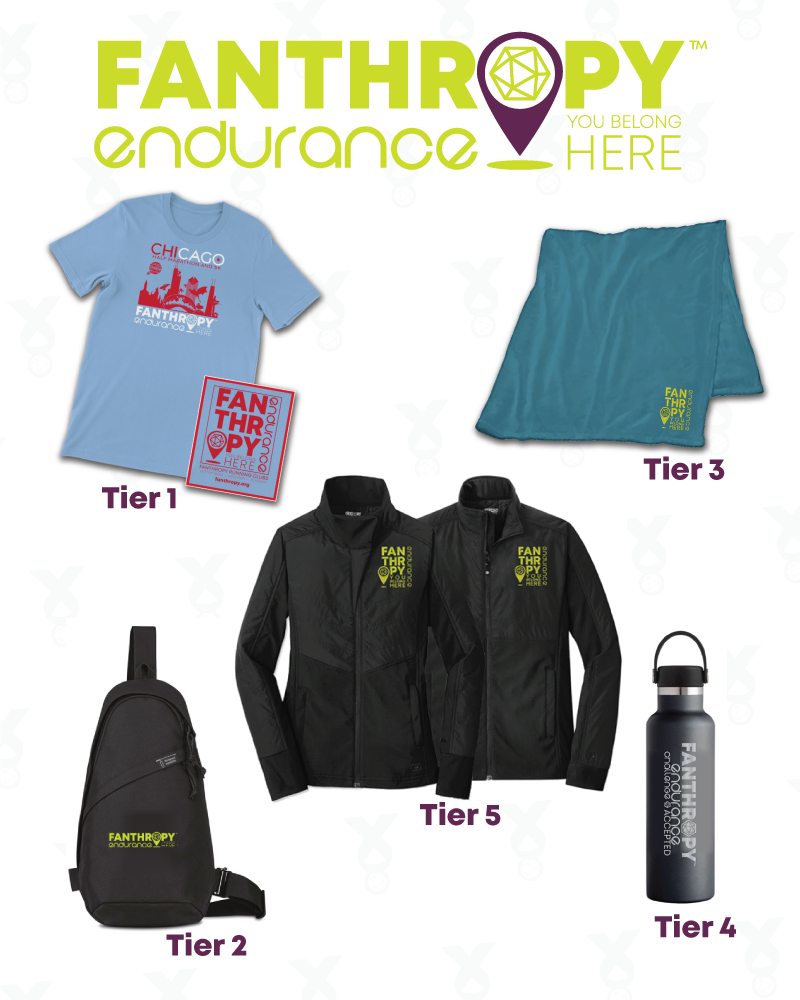 STEP THREE: Start fundraising.
A few days after registering with us, you'll be emailed a link to your unique fundraising page. You can personalize that page and update your fundraising goals as you crush each one.

Fundraising Tiers:
At $75: You receive the exclusive event tech tank/shirt AND an exclusive "Fanthropy @ Chicago" commemorative pin
At $150: All the $75 tier rewards, PLUS an exclusive Fanthropy embroidered sling-style backpack
At $300: All the previous tier rewards, PLUS an exclusive Fanthropy embroidered travel blanket
At $500: All the previous tier rewards, PLUS an exclusive Fanthropy Hydro Flask water bottle
At $1000: All the previous tier rewards, PLUS an elite, exclusive Fanthropy embroidered Ogio Endurance soft-shell jacket
---
FREQUENTLY ASKED QUESTIONS
FAQ #1: Can I do the event and NOT fundraise for RTI?
A: Absolutely! While we would love your support, you can just sign up for the weekend, join us for meetups, and hangout. You won't have access to the discounted room block or the cool fundraising rewards, but we will love seeing you there!
FAQ #2: I can't get to Chicago, can I do this virtually?
A: In part, yes. The weekend event doesn't have a virtual option itself, so you can't get their medals/swag virtually. But you CAN register to fundraise for Random Tuesday, complete a distance virtually in September, and we'll mail you all of your earned fundraising rewards.
FAQ #3: What if the event is canceled?
A: Should the event be canceled for any reason, the event coordinators (Life Time) will announce their refund or deferral plans/policies and will notify registrants accordingly. Your fundraising with us will be completely unaffected, and we'll just mail you your fundraising rewards...and you'll be all set for if and when the event is rescheduled.
Come join us as we take over the Chicago Half Marathon + 5k weekend, and help support RTI's Fanthropy mission!